Event Archives
Memo on the Precaution Against the Covid-19
Read More
The Extension of CCC Membership Fee Payment until 31 May 2020
Read More
CCC has been regularly monitoring the status of the Coronavirus Disease 2019 (COVID-19). COVID-19 has been named a global pandemic by the World Health Organization, as cases have been confirmed in many countries around the world including Cambodia.
Read More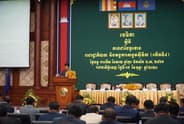 This is the 4th Partnership Forum between the Government and Civil Society Organization which was held at the Ministry of Interior on 3rd Feb 2020. Achievements, challenges, and suggestions have been raised during the partnership forum. 1) Highlight on process of LANGO Amendment 2) Monitor on 12 key asks raised since 2nd partnership forum in 2019
Read More
30 Jan-30 Jan 2020
Tonle Basac II Restaurant
To identify all previous year challenges and improvement on the contemporary CSOs' Enabling Environment and generate them as the proposed recommendations for the solution; To strengthen the solidarity of CSOs-Community for the better improvement of CSOs' Enabling Environment...
Read More
12 Dec-12 Dec 2019
Sunway Hotel, Phnom Penh
To award NGO GPP Certificates to the newly certified NGOs in 2019; To launch the new GPP Standard and Certification System; To present the transitional task between the current and new GPP certification system; To present the journey of the new GPP Standards and Certification system
Read More
06 Dec-07 Dec 2019
Phnom Penh
Under supporting of USAID's Development Innovations, Cooperation Committee for Cambodia (CCC) now offers a hands-on three-day Basic Video Training Course that covers understanding your audience, creating/identifying a message, interview skills, camera operation, and basic video editing.
Read More
Showing 71-80 of 257 items.